Rip Audio CD to music files
---
AnyBurn can rip Audio CD to several popular music file formats, including lossless and losess formats. Lossless formats compress or store digital audio with absolutely no loss of any information. Some, like PCM, store the raw audio data without compression, while others, such as FLAC, APE, can compress raw audio data to half of it original size. Lossy formats, such as MP3, and WMA, can achieve higher compression in file size than lossless compression. Lossy formats can compress an audio file to less than one tenth of its original size, with losing only slightly quality.
For loseless formats, AnyBurn supports ripping CD to APE, FLAC, or WAV files. For lossy formats, AnyBurn supports ripping CD to MP3 and WMA files. To rip Audio CD, please follow the steps,
1. Run AnyBurn, then click "Rip Audio CD to mp3/flac/ape...".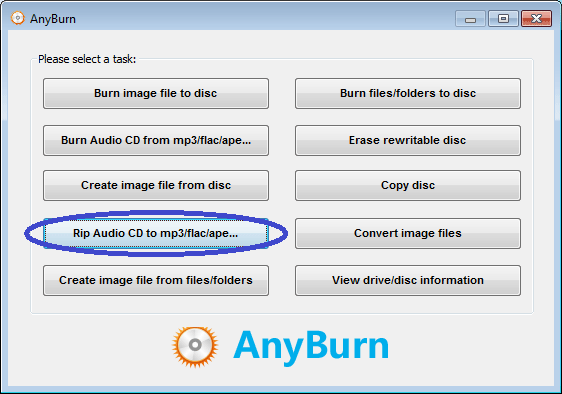 2. AnyBurn shows the "Rip Audio CD" page. Please select the correct drive containing the Audio CD from the source drive list. It will list information for all tracks in the disc. Please select all the tracks you want to rip from the tracks list, then click "Next".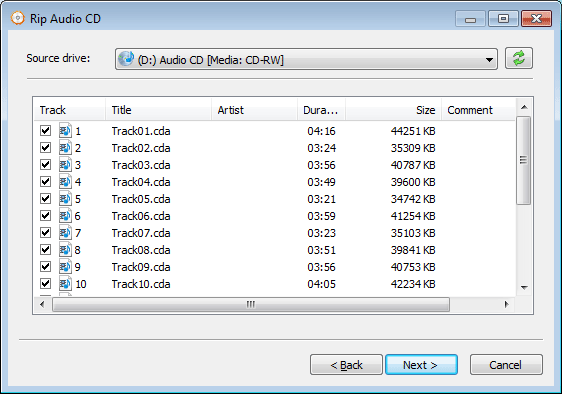 3. AnyBurn shows the Rip settings page. AnyBurn can rip CD to the mp3, flac, ape, wav, and wma formats. You can change these settings as needed, then click "Rip Now" to start ripping. By default, the output file name will looks like, 01-track title.<file suffix>, you can change it if needed.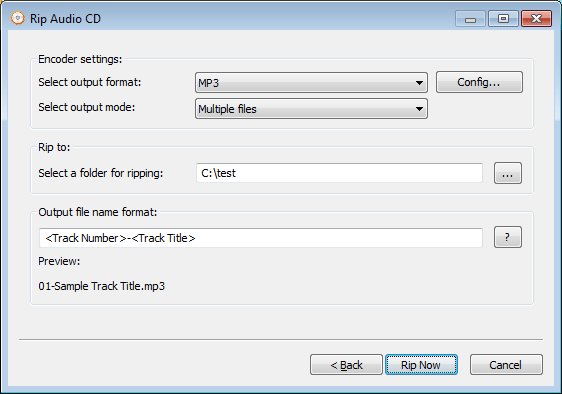 4. AnyBurn will now start ripping Audio CD to the desired formats. It will show total progress and the track being ripped currently.